Come to discover vertiginous landscapes, guaranteed emotions…
Come to explore the forest paths in quad! Between friends or in family, discover the joy of one strolls in quad. You will leave in excursion to the handlebar your cross-country quad, through the paths and dirt tracks within exceptional frameworks.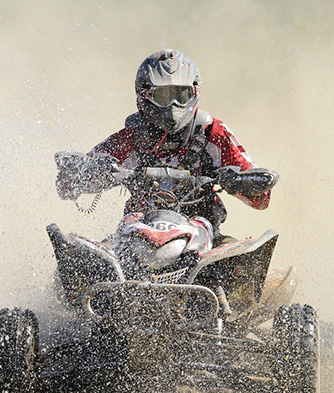 Choose your excursion between 3 and 5 days, with more than 600 km of ways, you have the choice!
According to your experiment, your desires and your budget, I will propose to you stopovers in hotels, bed and breakfast, stays of stage. All is possible, I will write a custom-tailored circuit to you. All is realizable or almost, my goal is to make you share my experiment through these ways which I know perfectly, to make you feel all these emotions, of the grandiose landscapes which we will cross, nature is intact, the maquis, the mountain, the moufflons, the list is long… I expect you.
September in May, I accommodate you from Ajaccio to take you along in strolls. I adapt to your desires. Each group is different. During the day I will make you benefit from my knowledge of the ways of the south of the island in order to show you unusual places, extraordinary sights, more or less technical passages according to your capacities. With the pause lunch, a snack will be been useful to you in the maquis and according to the weather and the place, of the grills will be organized by our "supply craft" which all the time follows us by truck assistance of the excursion. I take care to choose local products, pork-butcheries and cheeses of the villages. With fallen the night after one day rich in emotions, according to your choice, you will be lodged in list rural, hotel more or less spangled. I have a list of accommodation adapted to your desires and your budget. Your accompanying and guides will be able to follow you and to find you midday or the evening, I also deal with their comfort.
The in love ones with nature, excursion, or mechanical sport will take pleasure in only being found, in family or between friends, to enjoy this moment of relaxation to the handlebar of a quad in Corsica.
Do not hesitate to contact us to obtain additional information over excursion quad or to take a reservation, we will indulge to answer all your questions.
Phone: +33 (0)4 95 23 40 08
Email: randomotocorse@gmail