My family, my island, my passions...
Damien was born in a Corsican village where its paternal grandfathers lived since several generations, UCCIANI, in a meander of the valley of Gravona. His/her father Henri has it very young initiate with the joys of traversing the maquis in two wheels, then it communicated the virus to him to fight on grounds of cross-country race.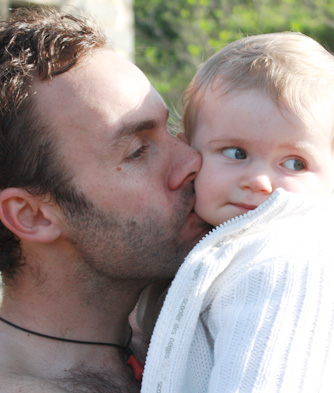 Since it knew to hold in balance on a motorcycle, it did not cease wanting to go always further and more high in the performance. During its military service, it was integrated in the French team and could carry high the colors of its Country through the continents… of Brazil to Spain, Eastern Europe, via Africa and many other areas.
Its name is known by the aficionados on all the continents, impossible to detail its so rich prize list, the championship of the world did not make him turn the head in a bad direction. It has just to find its balance in family with her partner Emilie. Damien one is impassioned of nature, it adores his Corsica which it knows in his least ways. While passing its diplomas of state in order to be able to frame groups, it will know with its natural patience, to help you, by lavishing warned advices to you, at the time of the technical passages.
He became dad since 8ans, of small a Antoine-Dominique… guarantee that the changing of the sporting event is already assured.
It is not rare to cross Henri and Damien on the mule tracks or the plates of Cuscionu, in order to discover other passages, other emotions and to propose them to you in a forthcoming stay. He likes to receive, share and laugh at all. It is a sportsman accomplished and impassioned by his trade. His/her maternal grandparent Elvire and Dominique showed him the Life with its Generosity, I know that it keeps them from now on, preciously at the bottom of its heart...
I did not employ any superlative, I could have often used some but Damien is simple and discrete. When you meet it on his motorcycle, through the ways of the island, around a barbecue or with his/her friend Stéphane Peterhansel, you will realize that it is a rare person… without turning, it is formidable. I know what I speak, it is my nephew."